Cancer Medicines Outcomes Programme (CMOP)
What is the Cancer Medicines Outcomes Programme?
The Cancer Medicines Outcomes Programme (CMOP) is a national collaborative project between the NHS boards in Scotland and the University of Strathclyde. 
It is funded as part of the Scottish Government's 'Recovery and Redesign: An Action Plan for Cancer Services', and hosted by NHS Greater Glasgow & Clyde (NHS GGC).


Our aim
CMOP's overall vision is to better understand the real life impact of cancer medicines on Scottish cancer patients. Healthcare professionals can then implement what we learn and enable a more personalised approach to providing cancer care. 
Our long term aim is to develop a robust and reliable process to understand the effectiveness and safety of cancer medicines in routine care in Scotland. Together with information available from clinical trials, this additional knowledge intends to help NHS Scotland deliver a more personalised approach to providing cancer care and help ensure the safe and effective use of medicines.
Phase 1 (2016-2020)
Driving change through data
In Phase 1 we co-ordinated an incremental programme of exemplar studies to test the connectivity and linkage of current and evolving local and national healthcare datasets to determine clinical outcome data for cancer medicines. These studies were carried out within NHS GG&C and thereafter across the entire West of Scotland Cancer Network (WoSCAN).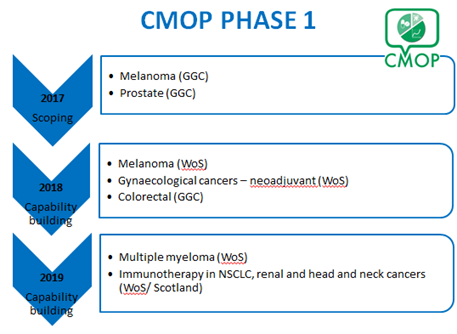 Quality of Life and Patient Reported Outcome Measures 
Patients frequently discuss quality of life concerns with their healthcare professionals: however despite this information being routinely collected and recorded within the patients health records it is not collected in a useable way. This type of information is sometimes referred to as 'patient reported outcome measures' or 'PROMs'.
We thereby want to understand and explore how patients may provide PROMs to better discern how their medicines impact their quality of life, and how healthcare professionals could apply PROMs as part of their routine care. This information could then help patients and their healthcare professional share and make more informed decisions about their treatment. Furthermore, PROMs could be useful in understanding the real-world impact of cancer medicines for larger populations, which alongside clinical trial information, could help inform the NHS to make decisions on which medicines should be accepted for use in Scotland. 
In Phase 1, we asked healthcare professionals and patients, which aspects of cancer medicines impact on their quality of life. We ascertained what information would be the most important to capture if PROMs could be collected as part of routine care and subsequently recorded in the patients health record. We also wanted to explore how that information could be utilised by healthcare professionals to make joint decisions with patients regarding their treatment.
We also explored the feasibility of collecting and analysing PROMs in routine care, and asked clinicians and patients what their thoughts were on using technology (such as mobile phone apps') to facilitate this and how this technology might work best.
What did we learn?
CMOP Phase 1 has demonstrated that linking data from the electronic prescribing system with other national and local datasets is feasible and can provide useful information on the clinical effectiveness of cancer medicines within the local population.
Phase 2 (2020-2023)
Building upon the success of Phase 1, CMOP Phase 2 will further explore the feasibility of our methodology within a national setting; expanding from the West of Scotland to include all cancer networks within Scotland.
Our 5 Core Aims
                                                   
Testing the national scalability of the CMOP Phase 1 approach and model: Can clinical databases be linked across all regions of Scotland as we achieved for NHS GG&C?
Driving quality improvement in patient care and dataset capability: How can we improve the quality and scope of the data that is routinely collected within the NHS?
Using real-world evidence to inform health technology assessment and reimbursement systems: How do we utilise routinely collected and newly evolving data sets to inform how NHS Scotland assesses the cost-effectiveness of cancer medicines?
Providing strategic leadership and oversight within the development of PROMs for use in clinical practice in relation to cancer medicines: What can we learn and how can we further collaborate across Scotland (and further) to obtain a more cohesive approach to collecting PROMS as part of routine care?
Positioning Scotland as a centre of excellence in the area of cancer medicines surveillance through the establishment of a national and international network to support and further improve global cancer medicine outcomes.
In partnership with the University of Strathclyde, the Scottish Government and Regional Cancer Networks