Yellow Card Reporting – An update for healthcare professionals
Key messages
As little as one adverse drug reaction (ADR) report can generate a safety signal, so every report counts
All healthcare professionals involved in patient care have a responsibility to report suspected ADRs
Reporting ADRs to the Yellow Card Scheme is quick and easy and can be done via https://yellowcard.mhra.gov.uk/, the App (visit the App store or Google play) or on paper yellow cards at the back of the BNF. Only four pieces of information are required to submit a report; medicine name, suspected reaction, at least one patient identifier and reporter details
There is a dedicated website for reporting any ADRs related to COVID-19 https://coronavirus-yellowcard.mhra.gov.uk/
Why report?
Excluding COVID-19 vaccine reports, there was a 16% decline in Yellow Card reporting in 2021 compared to the previous year. The scheme relies on voluntary reporting of suspected ADRs by healthcare professionals and members of the public. It is estimated that only 10% of serious reactions and between 2 and 4% of non-serious reactions are reported. Under-reporting coupled with a decline in reporting makes it especially important to report all suspicions of ADRs to the Yellow Card Scheme.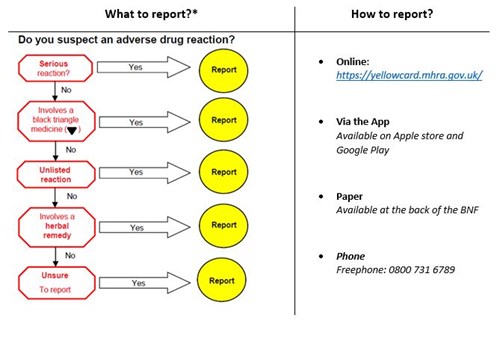 * Additional areas of interest include suspected ADRs in children and pregnancy
Who should report?
All healthcare professionals have a responsibility to report suspected ADRs. Additionally, the MHRA encourage Yellow Card submissions even if a healthcare professional thinks someone else may have already reported one. The system can detect duplicate reports and information can be used to add to further details about a case.
What happens when a Yellow Card Report is submitted?
Any information provided is kept confidential. The report is analysed and, where appropriate, the MHRA takes action to minimise risk and maximise benefit to patients. Possible interventions can include:
Changes or warnings in the product information/packaging
Restricting the indications for use of a medicine
Changes to the legal status of a medicine
Removal of a medicine from the market
Examples
1. Yasmin® oral contraceptive (ethinylestradiol drospirenone)
A member of the public submitted a report of Yasmin® potentially causing alopecia. This triggered a more thorough review which resulted in the Patient Information Leaflet (PIL) being updated to include hair loss (alopecia) under 'uncommon side effects': out of every 1,000 women who use Yasmin® between 1 and 10 may be affected.
2. Gaviscon® Infant sachets
Seven reports of Gaviscon® potentially causing constipation in children from pharmacists/nurses/parents led to a strengthened PIL highlighting the importance of discussing any side-effects with a healthcare professional and the role this plays in improving patient safety, particularly for medicines used in children.
Further examples of safety issues in which Yellow Card reporting has contributed, can be found here.
Training
The Yellow Card Centre Scotland have published several training packages to support and encourage reporting of ADRs. These include Turas e-Learning modules and a training website that allows users to submit a practice report. Training resources are available here. 
Published 27/04/2022. Medicines Update blogs are correct at the time of publishing.
We would like to hear what you think of Medicines Update blogs. Please leave us your feedback using this anonymous survey here