Red bag scheme
To aid medicines reconciliation/supply for care home patients in acute care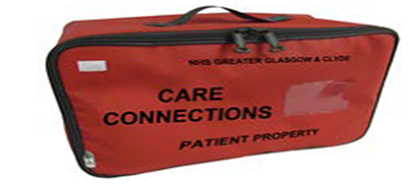 What is the red bag?
Started July 2018 in Glasgow City, initially 22 homes
2nd Phase October 2018, 550 bags to care homes across 6 HSCPs in NHSGGC
Includes: medicines, documentation (MAR/AWI/DNACPR), property, clothes
Comes with a checklist for bag contents – to be completed by the care home for admissions and by the ward staff at discharge
It is expected to reduce length of stay and improve communication and quality of care
How can the red bag scheme improve medicines reconciliation/supply between care home and acute care?
A copy of the MAR (medicines administration record) can be found in the red bag – this can be used to confirm a current list of medicines (no need to return this copy to care home)
The red bag may contain specialist supply medicines such as clozapine or chemotherapy
The rest of the patient's usual medicines should be kept at the care home, so these can be used post discharge
The hospital pharmacy will contact the care home on discharge to confirm which medicines are required (this will usually be any new or altered medicines)
Nursing staff should ensure any medicines and a copy of the discharge letter are added to the red bag and sent with the patient back to the care home
What if my patient transfers ward or to another acute site?
The red bag should stay with the patient at all times and it should contain everything that was sent in from the care home (use checklist).
Click here for further guidance for hospital staff.
*Any lost or unidentified red bags should be reported to Alan Gilmour (Planning Manager) on 0141 427 8372*
Published 17/12/18. Medicines Update blogs are correct at the time of publication.