High cost liquid medicines: impact at 6 months
An encouraging downward trend in use (by volume and cost) is noted for the high cost liquid medicines previously highlighted in a memo (available on StaffNet issued April 2018) and blog (issued June 2018).
The target liquid medicines include:
Amlodipine Metronidazole
Aripiprazole Nitrofurantoin
Diazepam Oxybutynin
Gabapentin Simvastatin
Levothyroxine Trazodone

In April –October 2018, compared to the same period in 2017, net savings of £234,000 have been achieved. The savings achieved in this initiative are contributing to the overall Acute Savings Plan.
Developments since the memo (on StaffNet) and blog were published include:
A tool to help identify clinical areas (Acute) ordering the liquids on the target list
This tool is a spreadsheet of ordering activity by month with filters to facilitate searching by ward, specialty and/or by product. Ward areas are encouraged to review their own usage and discuss whether alternative formulations could be used in line with the advice in the memo (on StaffNet). The tool has been shared with sector chief pharmacy technicians for circulation and is available on request by emailing ggcprescribing@ggc.scot.nhs.uk.
It is recognised that liquid preparations will be required in some areas. However, the target liquids should only be on ward stock lists if the need has been discussed and approved by pharmacy staff.
As per memo (on StaffNet), individual requests for the target liquids will also be assessed by pharmacy, and supplied where alternative approaches are considered unsuitable.
There has been an excellent response to this initiative. Thanks are due to all staff who have adopted this approach recognising the extra time involved: the chart below shows the combined impact of all these interventions.
(If viewing graph on a mobile device switch to landscape)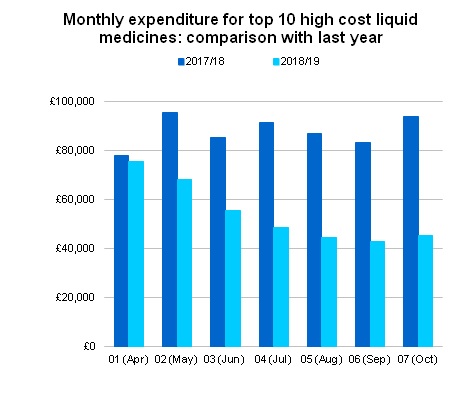 Published 17/12/18. Medicines Update blogs are correct at the time of publication.