PostScript 69 (May 2012)
To read this edition of PostScript in PDF format click here.
This edition contains articles on:
NSAID guidance
Generic prescribing policy
Citalopram / escitalopram QTc interval prolongation
ADTC decisions summary
Anticoagulants in atrial fibrillation
Case Study: Patchy understanding?
Webwatch: Drug Safety Update
Webwatch: Safe Management of Controlled Drugs
NSAID guidance
NHSGGC guidance on the prescribing of NSAIDs has recently been approved and is available on StaffNet under Clinical Information. The main issues to consider when prescribing an NSAID are:
The differences in the anti-inflammatory activity between NSAIDs are small; however there is considerable variation in individual response and tolerance to these drugs. The choice of NSAID depends on individual response, risk factors and adverse effects (particularly gastrointestinal (GI) and cardiovascular (CV) complications).
As adverse-effects are dose and duration dependent, the lowest effective dose for the shortest duration possible should be used.
CV and GI risk assessment should be performed before prescribing. NSAIDs should be avoided if possible in patients with a history of vascular disease, a high risk of CVD, or GI risk factors.
If an NSAID is unavoidable, naproxen (0.5-1gram daily) should be used in patients with a history of vascular disease or have high risk of CVD as this is associated with a lower thrombotic risk. Low dose ibuprofen (up to 1.2g daily) is an alternative which has not been associated with an increased risk of MI. Diclofenac (150mg daily) and ibuprofen (2.4g daily) are associated with an increased thrombosis risk.
There are many risk factors for the development of NSAID induced GI adverse effects. These are well known and include age over 65 years, history of GI problems, high dose NSAIDs, long duration of therapy, concomitant use of other products with GI adverse effects and serious co-morbidity. PPIs reduce the GI risks of NSAIDs and should be co-prescribed in these patients for the duration of their NSAID use.
In primary care, there are three prescribing indicators with a focus on anti-inflammatory prescribing:
COX-2s as a percentage of all COX-2s and other oral NSAIDs. This aims to reduce the proportion of COX-2s prescribed.
Defined daily doses prescribed of all NSAIDs per 1000 weighted patients. This aims to reduce the dose and overall volume of NSAIDs.
Generic Formulary recommended NSAID gel as a percentage of all topical NSAIDs per quarter. This aims to encourage Formulary compliance.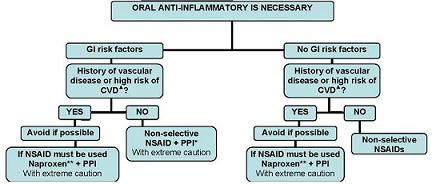 Generic prescribing policy
Following concerns over new generics with limited licensed indications, the NHSGGC ADTC issued a statement in 2009 which supported a policy of generic prescribing for the majority of medicines. Recently, concern has been expressed over the limited indications licensed for generic clopidogrel and pioglitazone. The ADTC position remains the same; the statement is reproduced below.
In some cases, the generic versions of a medicine may not have the exact same indications listed on the market authorisation as the original branded medicine, but as bioequivalence to the original branded medicine must have been demonstrated as part of the generic market authorisation process, ADTC considers that any additional risks of prescribing and dispensing the medicine generically are negligible.
Exceptions to the generic prescribing policy are:
When the pharmacokinetic profiles of different brands of the same medicine differ widely, eg tacrolimus.
Medicines with a narrow therapeutic index where any variation in the drug concentration in the blood increases the risk of toxicity or treatment failure for the patient
Where Formulary medicines should be prescribed by brand name, this will be indicated in the prescribing notes. This advice does not override an individual clinician's decision to prescribe what he/she believes to be the most appropriate treatment for an individual patient.
Citalopram and escitalopram QTc interval prolongation
Guidance has been developed by the Mental Health DTC after the MHRA Drug Safety Update in December 2011. It can be found below and on the Mental Health Prescribing Management pages of StaffNet.
Citalopram and escitalopram are associated with dose-dependent QT interval prolongation and should not be used in those with: congenital long QT syndrome; known pre-existing QT interval prolongation; or in combination with other medicines that prolong the QT interval.
The balance of benefits and risks should be considered carefully, particularly at higher doses, in patients with pre-existing risk factors for QT interval prolongation. These include patients with significant bradycardia, recent acute myocardial infarction or decompensated heart failure.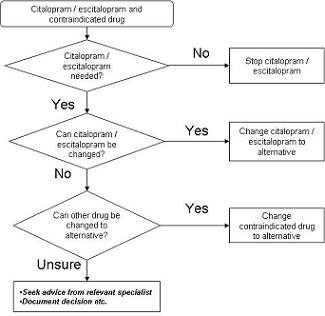 Dose reductions
Maximum daily doses have been reduced as follows:
Citalopram is restricted to a maximum daily dose of 40mg for adults; reduced to 20mg for patients older than 65 years or with hepatic impairment.
For escitalopram, the maximum daily dose for patients older than 65 years is reduced to 10mg/day; other doses remain unchanged
Monitoring recommendations
In patients with cardiac disease, an ECG review should be considered before treatment with citalopram or escitalopram.
Electrolyte disturbances should be corrected before treatment. Monitoring of serum magnesium is advised, particularly in elderly patients, who may be taking diuretics or PPIs.
If CV symptoms, eg palpitations, vertigo, syncope, or seizures develop, cardiac evaluation including an ECG should be undertaken to exclude a possible malignant cardiac arrhythmia.
If QTc interval is >500 milliseconds, treatment should be withdrawn gradually.
If QTc interval duration is 480 - 500 milliseconds, the benefits and risks of continued treatment should be carefully considered, alongside options for dose reduction or gradual withdrawal.
Common drugs which prolong QT interval
Antibiotics, eg clarithromycin, metronidazole (with alcohol)
Antifungals, eg fluconazole, ketoconazole
Antipsychotics, eg risperidone, clozapine
Antiarrhythmics, eg amiodarone, disopyramide
Antidepressants, eg amitriptyline, lofepramine
Methadone
For a full list of drugs involved click here.
ADTC decisions
Click here.
Paracetamol in enteral tubes
Although our last edition highlighted a case where this was not true, paracetamol soluble tablets are generally the formulation of choice for enteral tubes. The liquid may need dilution to aid administration. It also contains sorbitol, and is hyperosmolar to the GI tract so may cause diarrhoea. However, soluble tablets have high sodium content and may not be suitable for all patients. The choice involves weighing up the above factors and deciding what is most appropriate for the individual patient concerned.
Anticoagulants in atrial fibrillation
The ADTC has approved the Heart Managed Clinical Network's flowchart for use of anticoagulants in atrial fibrillation (AF). This is intended to clarify the place in therapy of newer drugs such as rivaroxaban and dabigatran. Warfarin remains the drug of choice, however there may be specific clinical scenarios where the other products are more suited.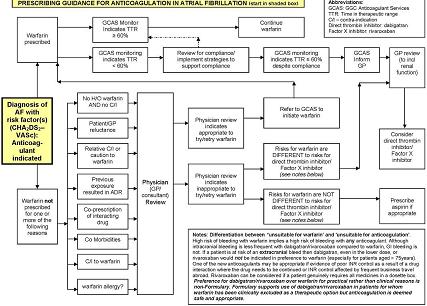 Preference for new anticoagulants over warfarin in atrial fibrillation for practical rather than clinical reasons is non-Formulary.
Case Study: patchy understanding?
In recent years there have been a number of new transdermal products licensed for treatment of pain. The main ones are fentanyl and buprenorphine. There are also lidocaine patches and capsaicin patches (Total Formulary; restrictions apply). Another confusing factor around the opioid patches is the varying dosage regimen and that they are different schedules of Controlled Drug.
Fentanyl patch (Total Formulary, restrictions apply):
Several brands available. Although concern has been raised about equivalence, there is no evidence that switching between brands causes clinical issues.
Patch to be changed every 72 hours.
Schedule 2 CD, safe custody, prescription writing and record keeping requirements.
Buprenorphine patch (non-Formulary):
Two brands available; not interchangeable.
BuTrans® patches (changed every 7 days): 5, 10 and 20 microgram / hour strengths.
Transtec® patches (changed every 4 days): 35, 52.5 and 70 microgram / hour strengths.
Schedule 3 CD, safe custody and prescription writing requirements only.
A 93 year old lady was recently admitted to a hospice for symptom management. She was receiving a variety of analgesics. Buprenorphine patches were prescribed as buprenorphine patches 52.5mcg, supply 4 patches, apply weekly. This had been dispensed by the same community pharmacist over the past year. The patient had a compliance aid, but none of the analgesics were included, it only contained omeprazole plus antihypertensives.
The patient's pain was poorly controlled and affecting her ability to eat, sleep and read. The hospice identified that the patch should have been changed twice per week. This may have contributed to her poor pain relief. Other factors may have included a lack of understanding about her medicines. It appeared she had been given little advice about the different analgesics such as how to use them and the benefits of regular vs as required dosing. Her analgesic needs were carefully reviewed and titrated.
What might have prevented this incident?
GP practice: there is a warning which appears for prescribers on the EMIS computer system highlighting whether 4 or 7 day patches although this information is not transferred onto the printed form. Is there a tendency to skip over warnings? This can happen if they warnings are considered to be trivial or too frequent. It is unclear whether effectiveness and ongoing requirement for analgesia was regularly and systematically reviewed by the GP.
Pharmacy: The label was clearly printed as "buprenorphine 52.5mcg/hr (4 day) patch". The product box states "for twice weekly use". Yet nobody questioned the directions of apply weekly. The pharmacist was unfamiliar with the product. The dispensed item matched what was prescribed, but time should have been taken with an unfamiliar product to ensure that the product and dose were appropriate
Full details of the incident were discussed with the patient and her next of kin. They were understanding and expressed support for and confidence in both the GP and the pharmacist. It is hard to determine how much this had contributed to poor pain control.
Other incidents have happened in acute care where the strength of patch ordered has been unclear leading to the wrong product being chosen.
Webwatch: Drug Safety Update
The Drug Safety Update bulletin is an extremely useful monthly publication from the Medicines and Healthcare products Regulatory Agency (MHRA). The bulletins provide information and advice on the safe use of medicines and provide updates on other issues relating to safety of medicines.
The site has been designed to allow quick access to relevant information. You can browse previous editions or search by drug name or therapeutic area. Register for notification of new editions by signing up on the website.
Recent topics include:
Aliskiren: CV and renal adverse effects
Dabigatran: risk of serious haemorrhage
Webwatch: Management of CDs in Primary Care
The Accountable Officer's Network (Scotland) has published "A Guide to Good Practice in the Safe Management of Controlled Drugs in Primary Care". It identifies both legal requirements and good practice and will be a useful resource for those working at the interface between primary and secondary or tertiary care.