Monitoring medicines usage in hospitals
For many years comparisons of prescribing data across GP Practices have helped to drive change and improve practice. The Hospital Medicines Utilisation Database (HMUD) offers opportunities to compare usage between Heath Boards and may provide some useful signals of variation in practice that may be worthy of further investigation.
Whilst the data has been validated, there are many limitations and the information must be interpreted with care. It does not measure the quality of care, but indicates where differences could be explored to highlight good practice or reduce variations that do not seem to have a basis in clinical caseload. A series of vignettes is presented where HMUD data has been utilised to answer or pose a question.
Ophthalmology: Aflibercept and ranibizumab
Ranibizumab was the first drug to be added to the Formulary for age-related macular degeneration in 2007. Aflibercept was added to the Formulary in June 2013 for age-related macular degeneration (and for central retinal vein occlusion in April 2014).
NHSGGC, along with several other Health Boards, have been keen to use this new agent, largely due to service advantages and potentially less frequent administration for patients.
It is important to note that ranibizumab currently has a wider range of indications than aflibercept, and there is no move to switch to a single product. Both have their place in therapy.
The graph indicates some other Boards have elected to stay with ranibizumab as the preferred agent while others are using a mix of the two drugs. This data could be useful at a future date if outcomes could also be compared.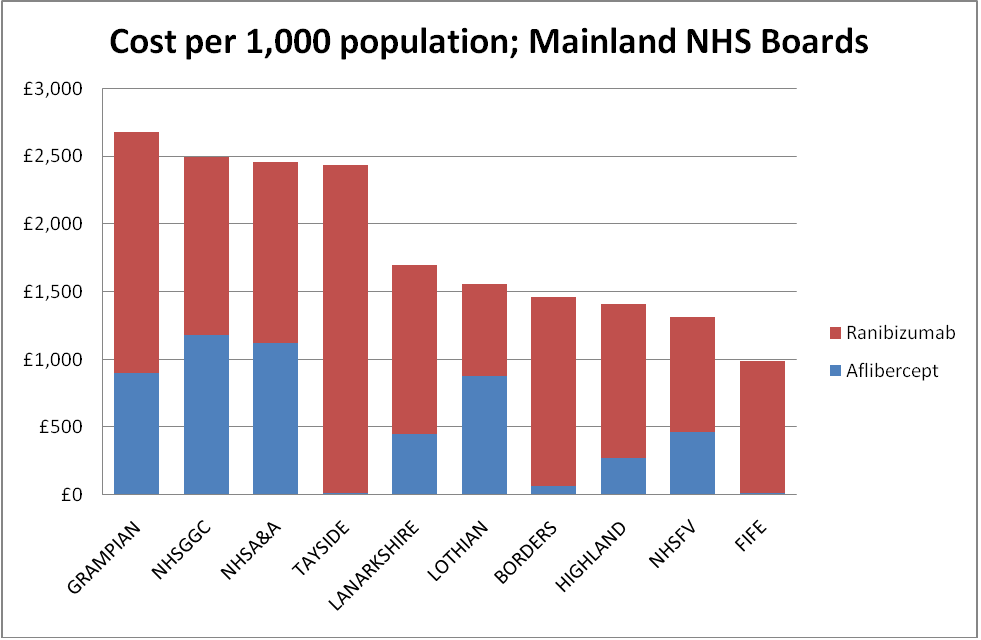 The differences in levels of use may reflect differing levels of investment in the new services which had to be set up to support administration of these products; NHSGGC invested substantially in developing the infrastructure required.
Meropenem
Antibiotics are under considerable scrutiny and a relatively high use of meropenem, an ALERT antibiotic, in paediatrics compared to adults had been noted. HMUD data was valuable to support comparison with other paediatric units across NHS Scotland. This provided helpful reassurance that GGC practice was not out of line with other paediatric centres, and indeed usage was not as high as another unit.
This illustrates the potential value of HMUD in specialised areas where internal comparisons may be less relevant.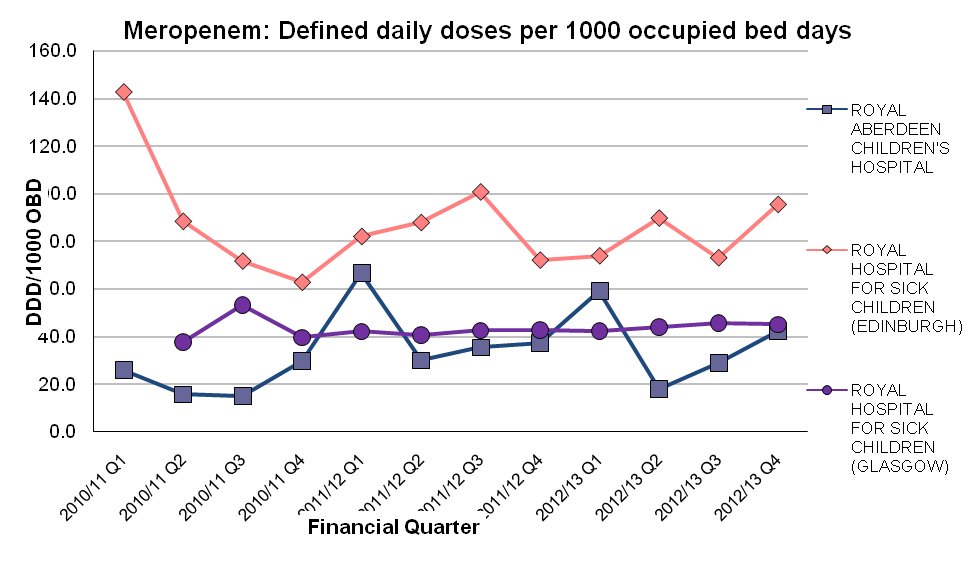 Inhalation anaesthetics
A comparison of choice of inhalational anaesthetics indicates a variable pattern across NHS Scotland. Some caution is required in the interpretation of this data as there are a range of influential factors. Local specialists can apply their understanding of the balance of inhalational technique versus intravenous, and consideration of the number of theatre cases and the type of surgery performed.
For example NHSGGC will have more specialist paediatric, neurological and cardiac surgery compared to Boards with a higher percentage of orthopaedic cases: the former requiring general anesthesia and the latter often conducted under regional techniques. The relative use of desflurane was of interest as it is the most expensive inhalational agent. The anaesthetic team have identified a number of other related agents where they believe comparative data would be of interest.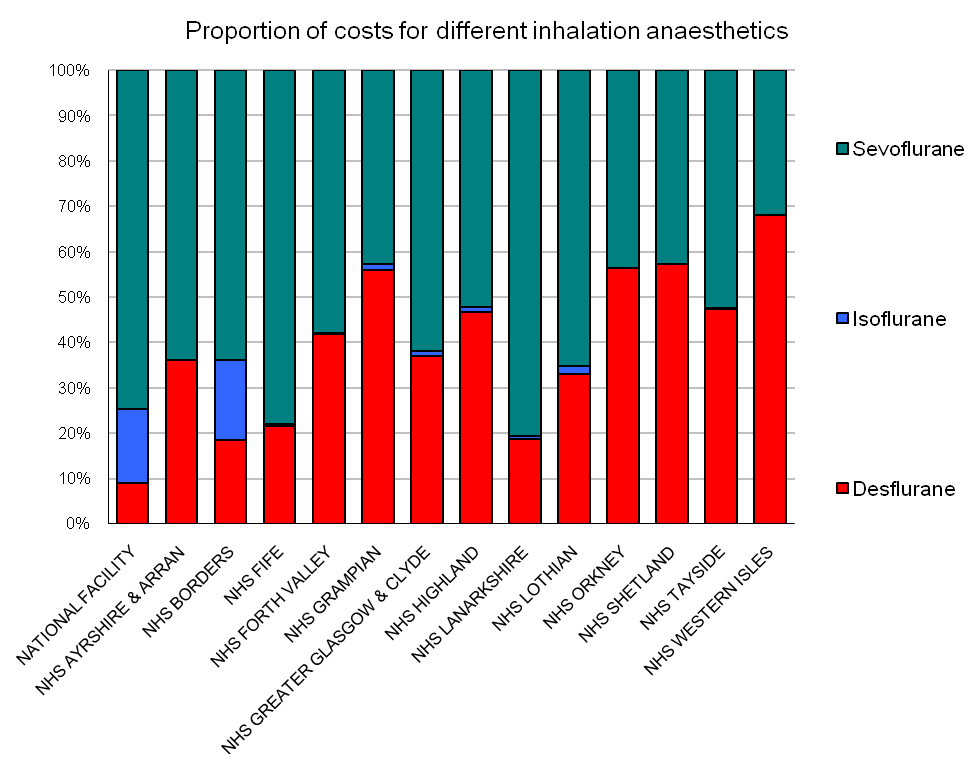 Pirfenidone
Pirfenidone is licensed for mild to moderate idiopathic pulmonary fibrosis. It is in the Total Formulary restricted to specialist use only in patients with a predicted forced vital capacity <80% where an Interstitial Lung Disease Multidisciplinary Team (MDT) has agreed it is appropriate.
NHSGGC have been early adopters of pirfenidone; there are specialist interstitial lung disease clinics and an MDT process which facilitates diagnostic and treatment decisions. All cases are discussed at the MDT and the overall initial experience is that the new medicine has been well tolerated and most patients remain on treatment.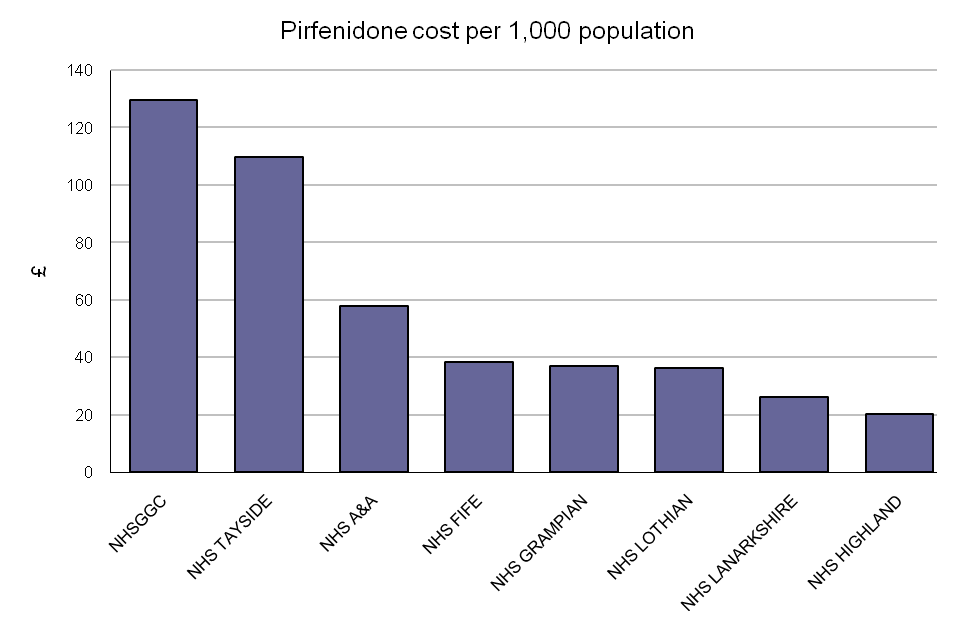 More information
If you would like further information or wish to request data on the use of a specific medicine/group of medicines then in the first instance please contact the lead clinical pharmacist for your service who will be able to facilitate.